12/9/11: 

I continue the accomplishments with

Congratulations to New Champions: 
 Since March 2011, we are proud to ad the following dogs to our list of AKC champions:




Ch Gingery's The Mask of Zorro (Dude) was shown by Donnah and earned his championship.  In this picture, Dude was BOW at the February National show.  Donnah and Dude do not get out often, but always put on a fabulous show.





 Ch Gingery's Twilight (Bella) also earned her championship after winning a 5 pt major with Bess at the same February National show as did Dude.  Bella currently competes in performance with owner Cindy.



Also completing their championships were Ch Gingery's Sweet Potato (Yam), who won a 5 Point Major during the weekend of the Oklahoma City National in  May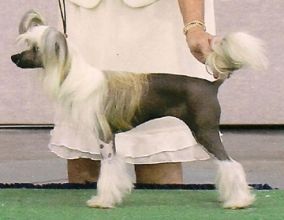 and Ch Aloha's Goldilocks (Goldilocks) & Ch Aloha's Bare Bones (Bones), who both completed their championships with Betty Lou on labor Day weekend.



Ch Gingery's Silkworm (Silka), who earned a 5 pt Major and Award of Merit with Arlene at the Delaware Valley local specialty, and Ch Gingery's Ocelot (Oscar), who came out of retirement at 6 years old to earn his last seven points and major, completed their championship at the same show on Long Island.  


And most recently finished on the same day and just in time to enter the 2012 Westminster KC show were Ch Gingery's Begonia (Begonia) with Jodi in Syracuse and Ch Gingery's Okapi (Okapi) with Yanina in Philadelphia. 

We are thrilled for all of you and thank you for showing these beautiful dogs.

12/8/11:

It has been a long time since this has been updated.  Sorry.  Much has happen, but I will touch on some of the accomplishments on another day.

 
Congratulations to New Grand Champions: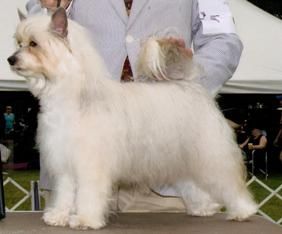 GrCh Gingery's Uptown Girl (Brinkley) was shown by owner Jacqui and completed her to her Grand Championship in time to be entered in Westminster KC with her new title. 









GrCh Solaris Tickle My Fancy Gingery (Elmo) also completed his Grand Championship, his all of his wins were during Specialty Weekends!





Also, two of our Grand Champions earn higher levels:

          Silver Grand Champion                     Bronze Grand Champion
       GrCh Gingery's Sweet Tea                GrCh Tacori's Lyin is a Sin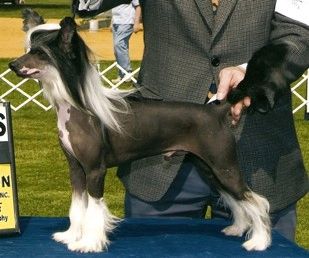 Congratulations to all!  Next time, We will look at our new Champions.


3/21/11:

Another good weekend for the Gingery dogs.
  Gadget showing off his pulling style

We will start with performance and UKC Weight pull where our Iron men continue to out muscle the competition.  (OK, OK, that was not very punny).  Gingery's Gadget (Gadget) put on a very impressive show pulling 300# on Saturday and 452# on Sunday (over 34 times body weight!).  If you are not impressed, imaging pulling over 1 1/2 tons.  That is what a 100 pound person would have to pull for the equivalent ratio.
  "Toby the Strong"
Ch Gingery's Terrapin (Toby) remained unimpressed as pulled 452# on Saturday, then out did that on Sunday with a pull of 528# (over 40 times body weight!).  The rivalry should continue as it is reported that Gadget was heard to have said to Toby, "Well, let's see if you can pull that much using only two legs!"
Congratulations to owners Donna and Dana for a wonderful outing.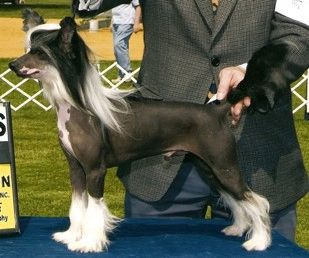 "Sinner"
Back in conformation, Ch Tacori's Lyin is a Sin (Sinner) followed-up his Specialty win with back-to-back BOBs in York, PA with Victor.  Moreover, at the Sunday show, which was supported by the Chinese Crested Club of Potomac, Sinner earned his Grand Championship. 


Making his debut in York PA was Gingery's Ace of Cakes (Ace), a cute white Puff puppy male.  This was Ace's first time away from owners Mary and Jolie.  Ace had the first-time jitters when he entered the ring, but performed admirable after he relaxed.  Shown in a large class of puppies, Ace received a second of six on Saturday and a first of eight on Sunday.  Thank you, Jolie (10), for training Ace and for keeping Ace's coat in such good shape.



3/15/11:
 
  "Chrys"

We also are proud of our other Specialty winners from the DVCCC Specialty.  Gingery's Chrysanthemum CD,RE,OA,OAJ (Chrys) won the Brood Bitch class using her two specialty class-winning powderpuff children Begonia & Dude.
In addition to this and the other wonderful wins in Conformation, Gingery dogs also showed off their brains at the Specialty last weekend.  Congratulations to their owners: 
Each earning a new title, we are proud to congratulate owner Gretchen; Gingery's Funnybone CD,RN (Bones), who completed his Rally Novice title; and Ch Gingery's Nantucket Nectar CD,RE (Fancy), who completed her Rally Excellent title.
Marsha's newest obedience dog, Gingery's Dramatic Mojo CD (Lars) continues to the Gingery versatility by going High in Trial on Sunday!  Lars also earned his second leg in Open obedience.
 3/14/11
   
Gingery Dogs Win Top Honors at the Delaware Valley Chinese Crested Club Specialty held near Philadelphia! 

In the latest Specialty weekend, Gingery Dogs continue to shine with several taking the top honors for the breed!  

Saturday DVCCC Specialty:
BOB - 

Ch Tacori's Lyin is a Sin

(Sinner) with Arlene
BOS -  GrCh Gingery's Sweet Tea (Sugar) with Bess
Select Dog - 

Ch Solaris Tickle My Fancy Gingery

(Elmo) with Angela
Reserve Bitch - 

Gingery's Twilight

(Bella) with Victor

Sunday DVCCC Specialty:
Select Dog & AOM - GrCh Curios Hit the Road Gingery (Jack) with Victor


Select Bitch & AOM

  -  GrCh Gingery's Sweet Tea (Sugar) with Bess
Winners Bitch & AOM - 

Gingery's Silkworm

(Silka) with Arlene
Best Adult in Sweeps - 

Gingery's The Mask of Zorro

(Dude) with Donnah


3/8/11:

I have added pictures from Westminster weekend.  Look for them below!


3/7/11:

Much has happened, but Website issues has delayed my reporting until now.

On the last weekend of February, we attended the Rockland Co shows.  On the Saturday show, Ch Curios Hit the Road Gingery ("Jack") was awarded BOB and completed his Grand Championship (our 4th GrCh).

On Saturday, Gingery's Twilight ("Bella") was awarded her 2nd Major and BOW, Ch Gingery Uptown Girl ("Brinkley") was awarded BOS, and GrCh Curios Hit the Road Gingery ("Jack") not only was awarded BOB, but went on to go Group 2!  The judge said that this show had some of the nicest Cresteds she had ever seen!

Betty Lou this past weekend is proud to announce Aloha's Give 'em Razzle Dazzle ("Razz") won back-to-back majors over specials and a Bred By Exhibitor Group 4!  Razz is a Romeo X Carrot son co-bred/co-owned by Betty Lou, Victor and Arlene.

Also, Bess won BOB with GrCh Gingery's Sweet Tea ("Sugar") this past weekend.  Additionally, Bess showed Gingery's Cookin with Jazz ("Caper") for the first time.  Caper was not bothered by the weather as she was awarded Back-to-Back Winners for her first points!

Westminster photos arrived, so they will be posted soon.

2/19/11:


Arlene is to appear on the Rachael Ray Show on Monday, 2/21/11!! 

  Arlene, after the makeover
Chris nominated Arlene for a Westminster Makeover.  It was great fun.  Try to watch it, if you can.  Here is the link:
    http://www.rachaelrayshow.com/show/segments/view/westminster-ambush-makeover/

2/18/11:


The Gingery victories continue at the 2011 Westminster KC show with GrCh Gingery's Sweet Tea ("Sugar") winning Best of Opposite Sex and Ch Curios Hit the Road Gingery ("Jack") taking the first Award of Merit!  GrCh Tacori's Illusions in Ink ("Elli") was selected for a fifth Award of Merit; but, alas, the judge learned that there were only four when she was handing them out. 

The Westminster Video for the Chinese Crested breed can be found at the following link:

http://video.westminsterkennelclub.org/breed_judging/toy/2011_4/chinese-crested/v1293049


    "Sugar"

Sugar was handled by Breeder/Owner Bess, who until she turned 18 had also used Sugar for Junior Handling.  Sugar was born in the first litter that Bess bred. Bess completed the championship of Sugar entirely out of the Bred-by class, which earned Bess her first Bred-by Medallion.  On her own, Bess trained and showed Sugar winning multiple BISS, multiple Group placements, and Junior handling wins.  At the end of 2010, Sugar was ranked top-twenty all-systems for Chinese Cresteds and Bess was the top Chinese Crested Junior handler.  Needless to say, we are proud of both Sugar and Bess.


    "Jack" in Westminster 2011

Jack was the "old man" in the ring, but he looked anything but old!  Jack was campaigned with Jessy in 2005 and was the #3 Chinese Crested dog that year.  At the 2006 Westminster show, Jack and Jessy were awarded 1st Award of Merit, after which Jack was retired.  With the start of the Grand Championship title, Jack's owners ask Victor in August to help Jack earn the newest AKC title.  Since then, Jack has continued his winning ways whenever he was shown.  Shown sparingly and in rotation with other champions, Jack is 1 point shy of the GrCh title.  

With these two wins, a total of 23 Gingery Chinese Cresteds have earned 31 awards at Westminster KC including 6 BOB, 6 BOS, and 19 AOM. A list of the Gingery Westminster Winners can be found at:

http://gingerychinesecresteds.com/WestminsterWinners.html 

 2/17/11:
Gingery Dogs Win Top Honors at the American Chinese Crested Club National Specialty held in New York City! 

WHAT A WEEKEND!

 

Competitors, judges, and dogs from all over the world converged on NYC for the Westminster KC and the Progressive KC and specialty shows that were this past weekend.

 

Traveling in from as far as Hawaii, Gingery dogs were there, of course.

The weekend shows started with the Progressive Dog Club on Friday.

 

We did not have any males entered, but we are proud of
Gingery's Okapi
and owner Yanina.

 

Okapi was awarded Reserve Winners to a 4-point major.

 

These two are looking better each time out.

 

In the Best of Breed competition, our
GrCh Tacori's Illusions in Ink
(Elli) was awarded Grand Champion Select.
The winter American Chinese Crested Club National specialty was Sunday.  Congratulations to the Gingery dogs for winning Winners Dog, Winners Bitch, Best of Winners, Best of Opposite, Best Puppy and Reserve Winners Bitch. 
  "Dude" Winning BOW at ACCC

In the male competition, Gingery's The Mask of Zorro (Dude) was shown by Donnah to perfection and was awarded Winners Dog and Best of Winners for a 5-point major.  Dude is now 1 point shy of his championship.   


   "Bella" w

inning 5 pts at ACCC
It was decided that morning that our former junior from North Carolina, Bess, would show Gingery's Twilight (Bella) in the open Powderpuff bitch class.  Bella responded positively to Bess and was awarded a 5-point Major! 


  "Silka" Winning Best Pup at ACCC
Arlene competed in the puppy class with Gingery's Silkworm (Silka), who was awarded Reserve Winners (taking second to Bella) and Best Puppy.

 

  "Elli" Winning BOS at ACCC

In the Best of Breed Competition, the judge selected several champions for additional consideration, including Ch Solaris Tickle My Fancy Gingery (Elmo) shown by Angela, Ch Tacori's Lyin is a Sin (Sinner) shown by Jacqui (who had only that afternoon to work with him), and Ch Gingery's Parfait (Parfait) shown by owner Ginger.  In the end, GrCh Tacori's Illusions in Ink (Elli) with Arlene was awarded Best of Opposite Sex.
 We were thrilled to have so many of our dogs do so well!  (Pictures coming soon) 


2/10/11:
 In January 2011, New York was "Blessed" with an abundance of snow and the lack of local shows for conformation, but that did not deter the Gingery Dogs.  If you can't show off your beauty, show off your athletic abilities. 


   "Chrys" doing Agility

Cindy entered Ch Gingery's Simply Saffron CD RE AXP MJP (Saffie) and Gingery's Chrysanthemum CD RE OA OAJ (Chrys) in a local CPE (Canine Performance Events) agility trail.  Both girls did very well.  Saffie qualified 7 of 8 classes and Chrys qualified in all eight classes!  With these wins, Saffie completed her Level 3 Standard, Fun, and Strategy CPE titles and is almost done with her Handler title.  Despite all her wins, Chrys completed only one title: Level 3 Jumpers.  It was a good weekend. 


 It was February before Gingery dogs were able to show in conformation.  However, we started the year with a BANG!!
Our first shows this year were in New Jersey and were entered for practice before the National Specialty and Westminster shows the following week.  Ch Tacori's Lyin is a Sin (Sinner) earned BOB and 7 more Grand Championship points.  Gingery's Twilight (Bella) was awarded two Reserve Winners but looked and showed fabulously.