After living with a family pet for a while, Dennis decided that he wanted to learn about showing dogs. With this in mind, he began his training. Using his untrained, personal pet "Lacie" (Gingery's Shoelace) as his Juniors dog; Dennis attended dog training classes, received additional training from various handlers, and started his Junior Showmanship quest. Lacie, who was rarely out of the house up until then, was not sure what to make of this. In the beginning, it was not easy; but Dennis' skills and Lacie's confidence improved with time. Although Dennis has not qualified to compete in the Westminster Junior Showmanship competition, Dennis' grades showed enough improvement to earn the privilege to show in the Breed competition. Dennis elected to show Ch Gingery's Strawberry Shortcake in the 2000 Westminster KC Show.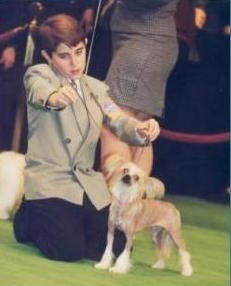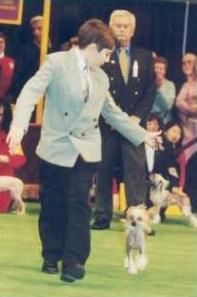 Not only did he show "Berry" at Westminster, but Dennis and Berry were still competing until the judge made the final selection. WELL DONE, DENNIS!!

Additionally, Dennis has shown Berry at the Chinese Crested Club of Potomac Specialty in 2000 where Berry was awarded Best of Opposite Sex, defeating many professional handlers and experienced Breed people.